"LINES OF APPROACH"
Saturday 1 July 2006


2-4 pm at The Naze Tower, Walton-on-Naze, Essex

(This activity accompanied the event of 'Lost on the Beach (live)')

By using semaphore and a relay of four boats Bettina Furnee and crew made an attempt to communicate a series of short messages back and forth between the land based Naze Tower and Roughs Tower (Sealand) eight miles out at sea. Roughs Tower is a wartime platform which was abandoned after the second world war and occupied in 1967 by a pirate radio group which never broadcast but later declared it the independent Principality of Sealand, with it's own currency, royal family, passports and visa requirements. Roughs Tower was seriously damaged by a fire on 23rd of June 2006 but access to the charred platform, in order to send the return message, was given (www.sealandgov.org).

Eight messages were sent from the Naze Tower to Sealand over a two hour period, using the international codes of semaphore and morse with hand held flags. The hazy weather conditions caused low visibility and the boats had to re-position frequently. However, three replies: ON AIR, SO NEAR and SO FAR, were received at the Naze Tower shortly before 4 pm. Messages and replies were posted on a board at the Naze.

The messages were signalled by the Sea Cadets from the Walton, Ipswich and Felixstowe units with assistance of the Maritime Volunteer Service. The event was inspired by the Towers and the local history of communication - wartime signalling and pirate radio. BBC Radio Essex covered the event with a three hour live broadcast 'Steve's Summer Saturday' from the Naze. Spectators were asked to collect a semaphore and morse sheet for deciphering messages and to bring a pair of Binoculars.

Messages written by Simon Frazer

Naze to Roughs Reply
red sails trail on air
smoke drifts so near
seagulls float on air
a message flies so far
live voices sound so near
daytrippers snack on air
a slow approach so far
a soft landing on air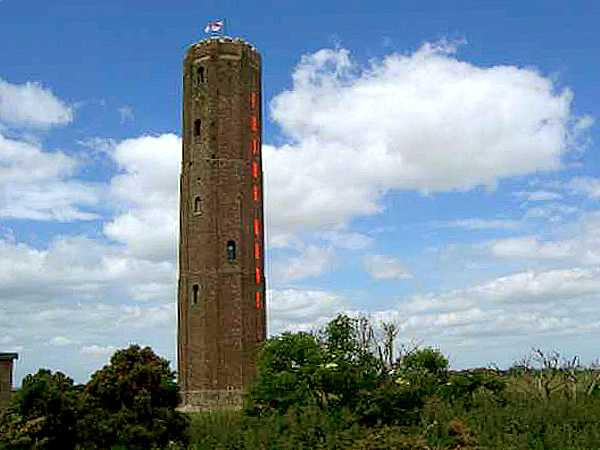 Naze Tower
>>>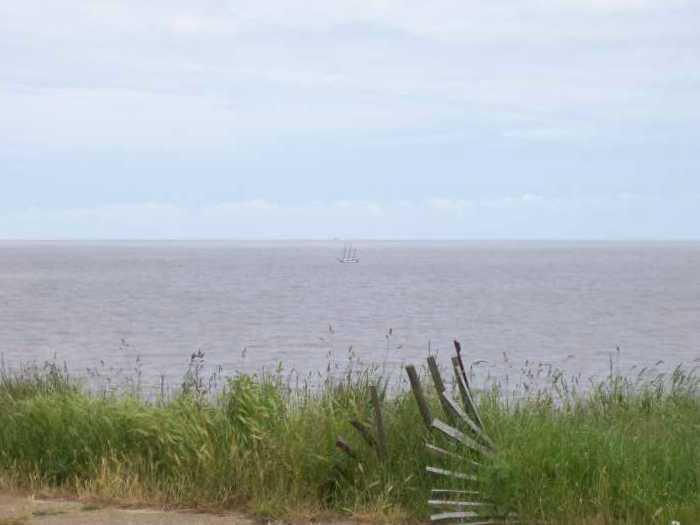 The long view to Roughs Tower (barely visible on the horizon 8 miles off the coast) as seen from the Naze ... I ( 15/06/06 )
>>>

Closer view of Roughs Tower area ... II ( 15/06/06 )
>>>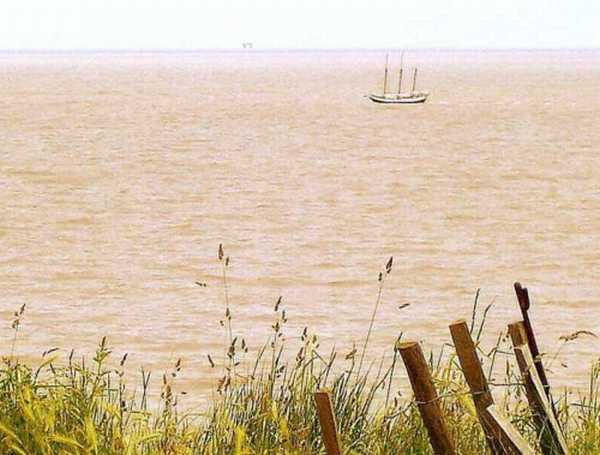 Closer view of Roughs Tower area ... III ( 15/06/06 )
>>>
"New works were produced to complement the exhibition of gallery works at the Naze Tower, across the Essex border, from 10 June to 18 July 2006. The Naze Tower is situated on fast eroding cliffs at a local beauty spot with beaches and walks. Bawdsey is visible across the estuary from the top of the tower, which was used by the Royal Navy to help ships negotiate the shoals and sands off the East Coast by signalling. During the second world war the Royal Navy constructed Roughs Tower, a sea fort eight miles off the coast of Walton. It was abandoned and in 1967 occupied by a pirate radio group, who never broadcast but later declared it the independent Principality of Sealand, with its own currency, Royal family, passports and visa requirements (www.sealandgov.com)".

"Under the shared title of "Lines of Aproach" two new works are made in response to the Naze itself, being lost to the sea, and to its military buildings; what role they played in history and what they represent. "Standing Wave" is a video piece showing a semaphore message passing from the Naze Tower to Roughs Tower and back again, asking the question WHAT DO YOU STAND FOR? "Think/Wave" is a rope ladder suspended from the Tower during the exhibition period".


www.ifever.org.uk/project/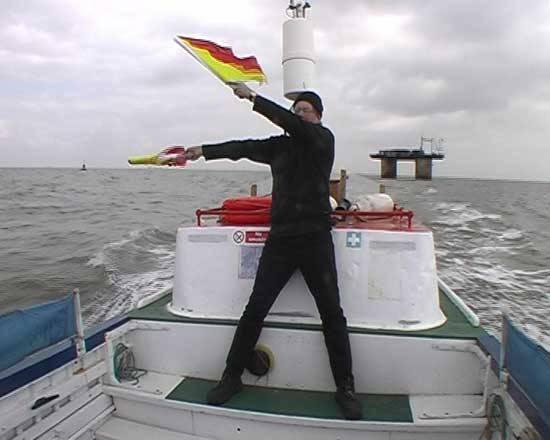 "Standing Wave" ( a still from website above.... )
>>>
NOTE : For more information and background history regarding ROUGHS TOWER ... Please Click Here!
>>>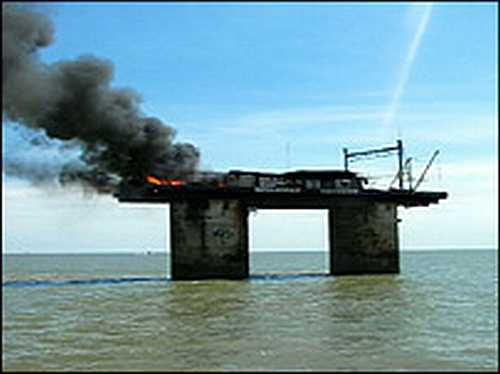 Sealand blaze (Picture: Harwich Lifeboat)
>>>
Roughs Tower Fire 23rd June 2006 ... Click Here!
>>>
SITEMAP LINKS ... Click Here!